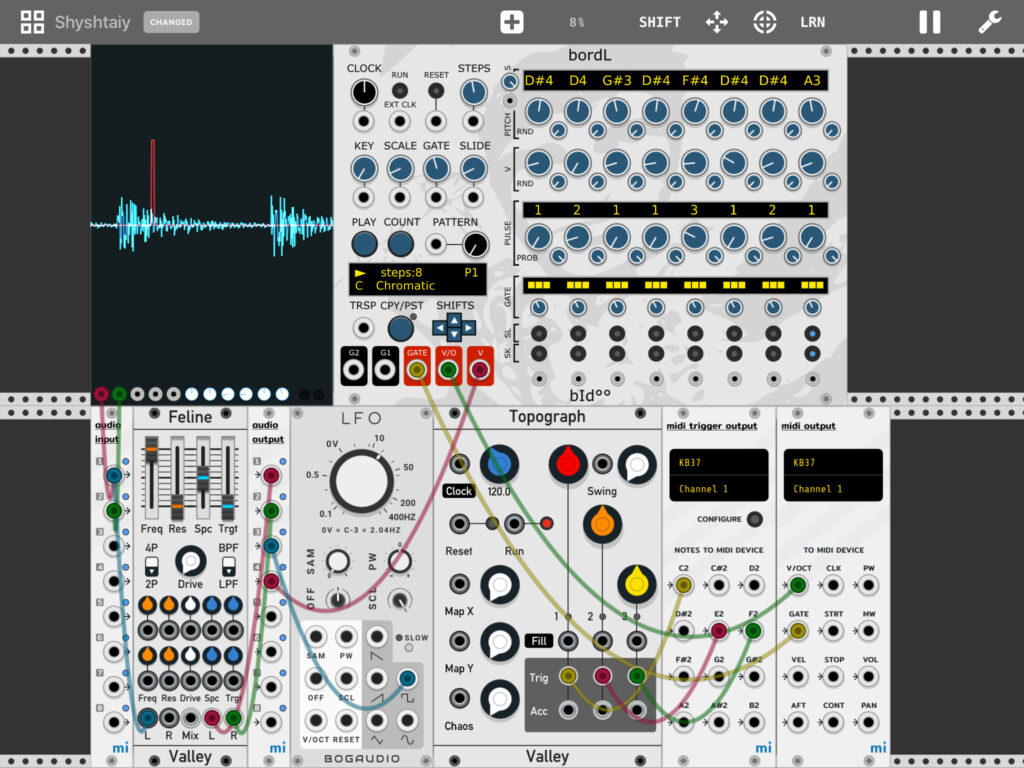 miRack 3.50 adds two probably most requested features – MIDI output and multi-channel audio IO – as well as new modules and other improvements.
Multi-channel audio
miRack now supports up to 16 input/output channels in standalone, AUv3 instrument and AUv3 effect modes, both on iOS and macOS. There are new 8- and 16-channel audio IO modules, and number of channels of audio modules in existing patches can be changed from their module menus.
In particular, Expert Sleepers ES-8/ES-9 audio interfaces and expanders are now fully supported, and allow to integrate miRack and hardware Eurorack equipment. Expert Sleepers encoders for use with ES-5, ES-40, ESX-8GT and ESX-8CV modules are also available.
MIDI output
There are 3 new MIDI output modules, and new versions of MIDI CC and Trigger input modules.
MIDI out works via CoreMIDI, Audiobus and AUv3. For AUv3, a dedicated MIDI Processor AU type is also available.
Modules
Added bId°° (Bidoo) module pack. It's a great collection of modules with weird names by Sébastien Bouffier, including several powerful sequencers – perfect for use with the new MIDI out functionality.
Valley module pack updated to the latest version. New module Feline – stereo version of a filter section from Interzone module.
Added an option to Host Sync module menu to change clock output rate (instead of a fixed BEAT output). This can also be used for connection to Clocked module for more reliable timing. Set CLOCK output to Beat / 4 or Beat / 8, connect to BPM input of Clocked, and set Clocked mode to P4 or P8 accordingly.
Fixed an issue with Frozen Wasteland Quad Algorithmic Rhythm module, it's now working properly.
For MIDI keyboards that do not support per-note aftertouch but support channel pressure, it will be used for AFT output of MIDI module.
Other
Added SHIFT toolbar button to access secondary function of certain module controls. It's used in number of new Bidoo modules, in Squinky Labs mixer to solo multiple channels, and other places in the future.
Improved rendering of lights and some module controls.
Added keyboard shortcuts to macOS version to zoom when no trackpad is present.