Post published:

September 13, 2023
First of all, we're happy to see and let you know about a new release of Holon app from our friends at Holonic Systems. Holon uses motion and spatial computing to make data-driven, auto-generated, long-form music from your everyday activities.
The new version now uses a built-in miRack audio engine and comes with a variety of new high-quality presets. Soon we will provide a way for artist to create and share new Holon presets using miRack and Holon.ist apps.
Now to miRack news:
APP FEATURES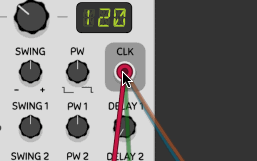 The new keep last touched cables highlighted option in Settings not only improves visibility of the said cable but also greatly simplifies work with multiple cables connected to the same port. You can now tap on a port to cycle through all connected cables – and then either drag the cable you want once it becomes highlighted or change its color.
The new minimap makes navigation around patches so much easier. It is enabled in Settings and has a few options for position and size. The minimap can be dragged to scroll the rack view or tapped to re-center it.
Let us know how you like these two new features, and how they or anything else in the UI can be improved further.
The new module pack manager (accessed using Manage button in the module browser) allows to disable unwanted packs. This will hide them from the module browser and may also slightly reduce app startup time and memory consumption. Don't worry, if you open a patch with disabled modules, they will be automatically loaded.
Paths to external assets (e.g. samples) located in miRack Documents folder are now stored in a way that allows patches using such assets to be moved between devices (given the used assets are present on all devices). We're working on improving handling of external assets, but in the meanwhile, it's recommended to keep all of them in miRack Documents folder (either on the device or on iCloud Drive), this will prevent losing access to those files due to iOS and macOS file access restrictions.
Also, note that multi-touch switch has been moved to the new bigger Settings screen from Tools menu.
MODULES
New module pack: voxglitch. The pack includes sample players, granular synths, effects, sequencers and a programmer. Don't forget you can donate to the authors of this as well as many other module packs to support their work. Donation link for a module can be found in its manual.
BUG FIXES
Fixed a few issues with dragging cables when multi-touch is enabled.
Fixed scroll bar behavior on macOS.
Fixed rendering issue in Submarine EO-102 module after patch load.
Fixed Submarine EO-102 triggers on patch load instead of waiting for the connected external trigger.