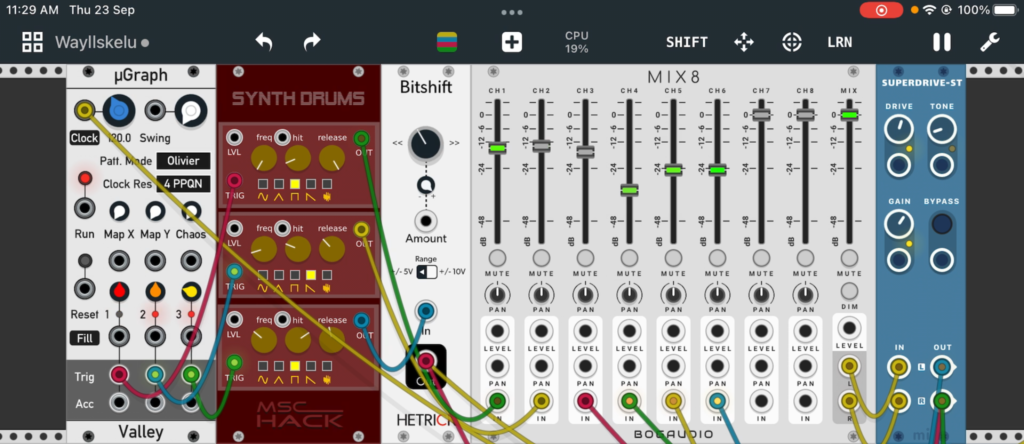 APP FEATURES
This update adds the long awaited undo/redo functionality. Operations that can be undone are: adding/removing modules and cables, moving cables, changing module parameters, randomizing/initializing modules, moving modules, and changing text fields in modules. Some modules may contain controls, including custom settings and operations in module menus, that are not undoable. We're planning to improve support for them in the future.
Since the start of miRack project, we are committed to providing the best possible performance while saving battery and keeping your devices cool, that's why certain visual effects have been disabled. But after switching to Metal rendering and with additional optimizations, it is now possible to bring them back. This update improves appearance of module lights, and adds a bunch of options to the settings menu that allow to increase FPS, enable plug lights, light halos, cable shadows, and realistic light fading.
Tools menu has new buttons to quickly zoom to fit the desired whole number of module rows on the screen: one zooms out to fit the nearest whole number of rows or add one more row, and the other zooms in the same way.
Cable opacity can now be adjusted using a slider in the tools menu.
[Mac] MIDI Learn function is now available when using miRack VST plugin. Make sure to also download the latest version from mirack.app/vst.
MODULES
Min-Max module added to HetrickCV module pack.
BUG FIXES
Fixed the issue where the new ··· (Split View) button in iPadOS 15 was displayed on top of the app toolbar buttons.